Is your Dad, Grandpa, Husband, Boss, or any father figure a golfer or a golf lover? Here are the sweetest and most unique gifts for golfers you can buy to celebrate him on Father's Day, Birthday, or any special day.
For convenient reading, we have arranged the following gifts for golfers into different categories:
GIFTS FOR GOLFERS UNDER $50
A
ny lover of the game of golf will love to have an
Ultimate Grip & Rip Golf Kit
that contains Golf Shoe Bag with side pockets, 100% cotton golf towel, 100 Long Golf Tees, and Golf Club Brush Groove. This set of golf kits is an amazing gifts for golfers under $50 you can present on the coming father's day celebration.
I
f your Dad or Grandpa loves the greens or maybe you noticed he secretly adores golf players like
Tiger Woods
,
Fred Couples
, or
Ben Hogan
as his superheroes there is no way he won't appreciate this
Heather-Green Golfer T-shirt by Crazy Dog
as a gift to celebrate the Father's Day for him.
F
unny dads are pleasant to live with. You can use this funny golf shirt to put a smile on your golf-loving dad. He might also be a movie lover, so using
The Golf Father T-Shirt
to say thank you for all the
senses of humor
he had shared and will still share with you is a laudable idea.
SIMILAR ARTICLES YOU MAY LIKE
24 Best Golf Shoes As Picked By The Experts
Top High-End Apparel For Female Golfers
35 Best Spikeless Golf Shoes Collection
24 Best Mens Big and Tall Golf Apparel To Improve Your Game
T
hinking of gifting a personalized golf gifts T-shirt to your amazing golf-loving Grandpa? If Yes then, use this
beautiful golf shirt
to award the best grandpa by par all over the world. Click
here
to order.
Post Covid-19 will lead to many travelling golfers and your dad or grandpa will love to take a trip for some round of games. This will make him have a need for an organizer that will contains some of his useful kits at the golf course, we strongly recommend the golf trunk organizer by Samsonite as gifts for golfers under $50 top list.
L
acoste brand is golden, any lover of classic brands will definitely love a gift from Lacoste most especially a golf shirt like
this
.
We believe your golf-loving dad or grandpa will fall in love with this beautiful Lacoste polo golf shirt as golf gifts for men.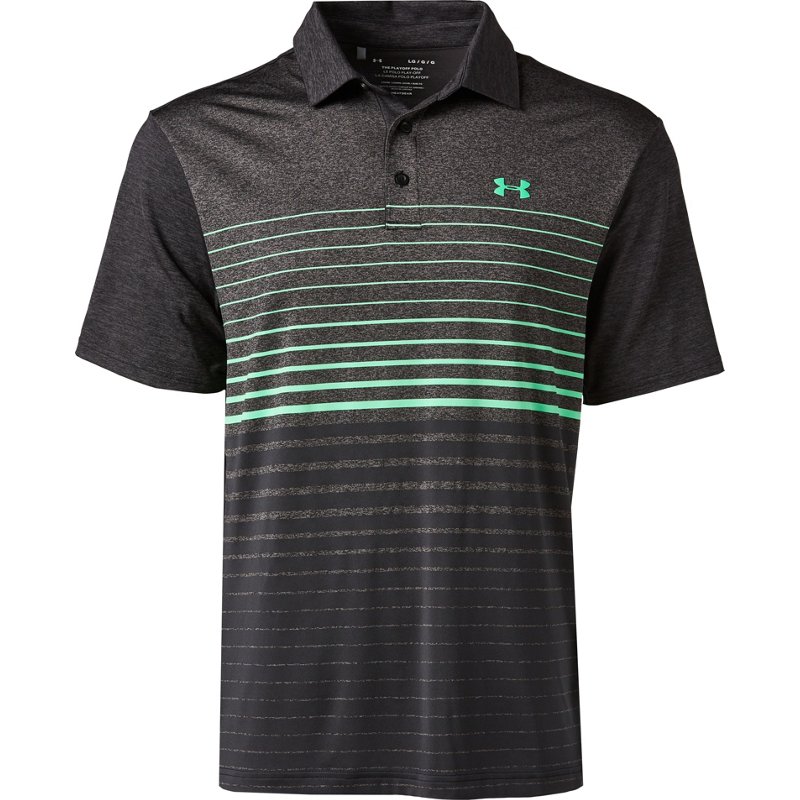 When he is going for a golf game in sunny weather this Under Armour Men's Playoff 2.0 Golf Polo with high-quality UPF-30 protection and moisture-wicking feature, will keep his body well protected. Click here to order this shirt
GIFTS FOR GOLFERS: UNIQUE GOLF BALLS.
D
id you know you can help your golf playing dad or grandpa improve his games by gifting him some quality golf balls like those listed below? Yes, because good golf balls are important for golfers' success on the green.
The following unique golf balls are among the best gifts for golfers you can purchase for him:
Buyers of this pack of 12 unique golf gifts TaylorMade yellow golf balls have many positive reviews to write about the distance balls.

"This is now my go-to ball – best I have found for a soft feel, great distance, and perfect compression (77) for my swing speed (80-irons; 87-woods)." As one of them gladly said.
These set of 2 Westman Works golf balls are not meant for golf games; Daddy will never use such precious gifts to swings practice.
They are specially created for the daddy's golf collection shelf, a beautifully customized Father's Day Golf Ball novelty gift pack for your amazing dad, or any father figure that loves golf. Click here to order.
These personalized golf gift balls are specially created for the Grandpa you care about in other to add it to his golf collection.

A beautifully customized Father's Day Golf Ball novelty gift pack for your amazing Grandpa.
As beautiful as these golf balls look they are one of the perfect golf balls for advanced golfers with slower to medium swing speeds.
We believe a pack of 12 crystal golf balls from Volvik will serve as great gifts for golfers and your golf-loving dad or grandpa can't be excluded.
Titleist Velocity Golf Balls is a constant pursuit to provide golfers with an added advantage. And your dad or grandpa will love golf gifts from Titleist Brand. Click here to order for him.
Can you imagine the kind of joy your golfer's dad or grandpa will fell if your buy not "1 pack", not "2 packs", not "3" but 4 packs of Taylor Made golf balls as a gift for him?
That's a whopping 48 golf balls you have just gifted him to be a better golfer or use in practicing his swings. Click here to order!
GIFTS FOR GOLF LOVERS: GOLF ACCESSORIES.
A
re you ready to witness the most heart-melting gifts for golfers or gifts for golf lovers under the golf accessories categories?
We have helped picked some of the best golf accessories to gift him as a token of your love.
I
nstead of buying it one by one Amazon seller had done a great job to assemble what is referred to as the
golfer's gift basket
, containing set of premium golf accessories including golf balls & golfer gloves.
Wouldn't you rather buy this 9 set of golf accessories for your golfer's dad, husband, or grandpa? Click here to order.
If your dad or grandpa is a lover of golf and whiskey (scotch or rum), this 10oz cocktail set of 2 old fashioned glass will make a great gift for him.
T
hese beautiful
Callaway Tour Hats
features not only the hat but also, comes with 2 golf balls and 3 tees. The
Callaway Gift Set – Golf Accessories
is one of the gifts for golfers or golf lovers picked in this article.
I
magine him wearing this
FootJoy Men's Slide Sandal
with a nice white sock while going for a golf game and also after removing his spiked golf shoes when the rounds of games are over. This will give his feet supreme comfort, and boost his golf confidence. Order the gift
here
.
34. Under Armour & Nike Men's Reversible Golf Belts.
G
ift your golf-loving dad, husband, or grandpa a fashionable golf belt from
Nike
or
Under Armour
and watch him give you the best hugs a father can give. We have selected these two beautiful golf belts as part of our gifts for golfers collection.
How about adding some colorful socks to his golf dressing, don't you think that will make grandpa look funkier?
Help him develop a perfect alignment, back-stroke length, and acceleration through the balls for his golf strokes. With 9 feet x 16.25 inches long SKLZ Accelerator Pro Putting Mat, your dad, grandpa, or husband will have effective and fun practice.
31. Golf Chipping Practice Nets.
"Frequent Golf Practices make Perfect Golfers"-
These chipping nets are considered as one of the best gifts for golfers, most especially the beginners. Either of these nets will help him learn how to control his trajectory of shots.
Both of them are collapsable and can be used to achieve any golfing scenarios right inside the room, office, studio, or backyard.
30. Backyard Golf Chipping Game Net & Mat.
If all the chipping nets we earlier shared are not colorful enough, this BattleChip Backyard Golf Chipping Target with 16 Foam Balls can be of great admiration to your golf-loving dad or grandpa. Better still, the 9-feet x 3-feet putt-a-bout Grassroots Par Three Putting Green will be a good gifts for golfers.
Golfers and hats or caps walk hand in hand. Without hats on the head of golfers, especially men, walking through an 18 holes golf course will be difficult due to sun exposures. Bollman hats can be beautiful golf gifts for men.
Best of Bollman Hats Golf Gifts for Men.
BEST GOLF GIFTS FOR MEN- GOLF CLUBS
Is he a beginner golfer? Consider buying this Wilson Senior Profile Set for him because the SGI complete set is the only custom fit in a box system in the world and it's designed to address physical considerations and swing characteristics of senior players. Insightful gifts for golfers.
It's not easy to improve on perfection but this Ben Hogan Worth White will make his game of perfection improve greatly. Since its inception in 2015, the Ft. Worth irons had been adopted by renowned players across the globe.
This is a full complement of golf clubs that you can gift to your dad as a surprise. Callaway Men's Strata Ultimate 16PC was built with modernized technology. The set includes Driver, 3 Wood, 4 & 5 Hybrid, 6 – 9 Iron, PW & SW, Putter, Stand Bag, 4 Headcovers. He will definitely love this golf gift for men.
Getting a Men's Complete Golf Club Package Set for him is a good idea but how about getting your man an 18 pieces golf club set? That contains every necessary golf club tool including Titanium Driver, Number 3 & Number 5 Fairway Woods, Number 4 Hybrid, 5-SW Irons, Putter, and Stand Bag.
GIFTS FOR GOLFERS WHO HAVE EVERYTHING.
Y
ou know your golf playing dad or grandpa has a lot of money to spend on golf equipment, and your might be wondering is there are gifts for golfers who have everything?
Yes, the following best gifts for golfers are premium products that not all golfers can afford and we are sure that buying it for your boss, dad or grandpa will bring a lot of smiles and improvements to his game.
Maybe your dad is trying so hard to improve his game by replacing his set of golf clubs, TaylorMade Golf Sim Max is a masterpiece for right-handed seniors in the game.
The BIGGEST gift surprise you can give your dad, husband, or grandpa who is a golfer, during this season is TaylorMade P-7Tw golf irons. He will be blown away by both the technology of the equipment and also the depth of your love for him. This is perfect gifts for golfers who have everything.
A masterpiece hat like the Montecristi Panama which it the world's finest straw hat with new modern hat shapes for the new generation of hat-wearing golfers is unarguably a perfect gifts for golfers who have everything. These hats are woven by artisans in Ecuador and shaped by skilled craftsmen in Pennsylvania.
If he loves wearing quality hats and he had almost everything; this beautiful Bollman hat will do the magic of blowing his mind away by your gift.
He can have other Garmin GPS watches but it's rare to have this Solar Powered Garmin Fenix watch that was designed for all-day wearability, it is the ultimate watch for active lifestyles. Sleep Monitor, Heart Rate Monitor, Blood Oxygen saturation notification, and many other impressive features.
GOLF GIFTS FOR MEN: TECH & GADGETS
If you are thinking of buying him a rangefinder, we strongly recommend the Nikon Coolshot 20i GII Rangefinder because the new COOLSHOT 20i GII golf laser rangefinder provides incredibly fast, accurate distance measurements for every shot including those involving slope (elevation changes).
A GPs watch in the category of Garmin S10 & Garmin S20 series is quite rare and you gifting this to him as a token of love will be a great idea.
AMAZON BEST SELLING GOLF WATCHES
Garmin watches are the best brand when it comes to GOLF WATCHES so you definitely can't have enough. Garmin Approach S40 will look great on his wrist and on the course. Its colorful touchscreen shows distances to the front, middle and back of the green, hazards, and automatically records detected shot distances.
SHOP BEST OF GARMIN APPROACH GOLF WATCH
Best Alternative Choice
You can gift him a sophisticated golf swing Analyzer to capture his putting, full swings, and track his game with Swing Analyzer App that is compatible with both iOS & Android.
GIFTS FOR GOLFERS: MEN APPAREL
J. Lindeberg Men's Golf shorts crafted in a lightweight, highly breathable ventilated fabric. This features our updated tapered fit, providing a more modern look without compromising on comfort, whereby making it one of the best gifts for golfers.
PATTERNED GOLF SHORTS BY ROYAL
Peradventure, you know he likes wearing colorful golf shorts, then any of the options above will make wonderful golf gifts for him.
PLAID GOLF SHORTS
Plaid print golf shorts are for stylish minded golfers. If your dad has a great taste for fashion, getting him a pair of plaid printed golf gifts shorts along with a nice cap will be a good gifts for golfers like him.
PLAID PRINTS GOLF TROUSERS.
P
laid print golf trousers are for stylish minded golfers. If your dad has a great taste for fashion, getting him a pair of plaid printed golf gift pants along will be a good gift for golfers like him.
DESIGNERS GOLF POLO SHIRTS
These easy to care for Puma, Nike & FootJoy polo shirts will actually make great gifts for golfers and we believe your golf-loving dad or grandpa will be pleased for gifting him any of these beautiful golf polos.
The shirts were ultimately created as high-tech performance polo to wear on the course.
BEST DESIGNERS GOLF SHIRTS TO PICK FROM
BEST GIFTS FOR GOLFERS: GOLF BAGS
MAXFLI SUNDAY GOLF AUTOMATIC STAND BAG
Every golfer loves to have quality Sunday golf bags in their collections, Maxfli Sunday golf automatic stand bag is one of the best gifts for golfers in the golf bags category. The beautiful bag is available in three different colors Gray, Blue & Orange.
FOUNDERS CLUB 7″ GOLF STAND BAG
The 7 inches long founders' stand bag is already credited to be one of the most durable golf stand bags. So it will be an incredible gift for golfers that like going for golf games on 18holes course.
Pulling a loaded club glider with Sun Mountain is nearly effortless. Sun Mountain Club Glider Meridian Soft Travel was the first choice for Travel Bags for 2016-2018, this travel bag will minimize the stress of traveling with golf gear for your dad, grandpa, or boss. Dense foam padding through the top of the bag protects your clubs; the leg mechanism supports the weight of your bag, and the pivoting wheels make the bag highly maneuverable. Surprise him with one of these bags as a Father's day gift and you will definitely make him happier with you.
Golfers with quality pushcarts like Sun Mountain Reflex Push Cart enjoy the luxury of effortlessly maneuvering their gear around the course with it.
This pushcart is foldable and unfolding it is very easy to achieve. The added handle mounted parking brake keeps the cart stationary and secure while not in use suitable for most cart and stand golf bags Push Cart weighs approximately 17 and can push around up to 20KG of golf equipment, making it among the top 10 perfect gifts for golfers.
Amazon Alternative You Can Buy
GOLF GIFTS FOR HIM: GOLF SHOES
U
nboxing a classic styling and ultra-modern premium quality golf shoes like
ECCO Golf Lux Men's Shoes
is one of the best feelings you can give him as a golfer's gift.
The professional-standard spikes on this men's golf shoe provide flawless stability from tee-off to the final putt, while the internal leather lining is perforated to allow the air to circulate naturally, creating a cooler internal environment for all-day wear.
G FORE MEN'S COLLECTION SHOES
W
e picked these shoes as one of the best gifts for golfers due to many amazing features; Stylish and super comfortable
G/Fore gallivanter spikeless golf shoes
built with a premium waterproof leather that makes the shoes ultra-lightweight sole coupled with a bespoke cleat design for optimal on-course traction.
It's washable with triple density foam cushion footbed for superior comfort along with comfort system technology which allows airflow.
FOOTJOY GOLF SHOES

COLLECTIONS
F
ootJoy is a know brand for creating the best of the best golf shoes with goof styling, comfort, and stability you have come to expect.
FJ Men's FootJoy original Golf Shoes
, with soft spikes. We have resolved that if you want to gift a FootJoy branded shoes as gifts for golfers, then we believe that this original version is one of the best choices to use as a gift for him.
Other Amazing FootJoy Golf Shoes
UNDER ARMOUR SPIKELESS GOLF SHOES
O
ur team's top pick Under Armour golf shoe you can buy for him during the father's day or birthday is
Under Armour HOVR Fade SL spikeless golf shoe.
It's designed with a breathable microfiber upper to give comfort and lightweight that supports the golf swing with soft yet responsive underfoot cushioning more flexible feel without any compromise in traction.
We also suggest you have a look at the following Under Armour Golf Shoes:
NIKE MEN'S GOLF SHOES COLLECTIONS
L
ooking for a Nike golf shoe that is responsive to stability, comfort, and fashion to present as a gift to your golf playing dad or grandpa?
Nike Men's React Vapor 2 Golf Shoes
is the best choice.
This special breed of Nike golf shoes has exceptional traction, durable to withstand hard swings and it also comes with removable spikes for better care.
Alternative NIKE Golf Shoes Choices
ADIDAS GOLF SHOES COLLECTION
D
o you know what it means to if yo gift your dad, boss, or your golf playing grandpa the number one golf shoe in recent time? He will surely love you the more because
Adidas Men's Tour360 XT
is engineered shoes that were built to outsmart wintry conditions and offers a classic look for the links.
Highly breathable, seam-sealed protection they're designed with a premium leather upper for extra comfort and a locked-in feel as you attack pins. A responsive midsole returns energy on every swing. The eight-cleat outsole provides an enhanced grip on wet surfaces with regular fit lace construction.
More Adidas Men's Golf Shoes To Consider as a gift for him;
BONUS GIFTS FOR GOLFERS
Top Best Golf Towles On Amazon
Conclusion
When it comes to the best gifts for golfers, there are so many options. Whether you're looking for a gift idea in your price range or something specific they might need out on the course, we have an extensive list of 50+ great ideas perfect for any golfer in your life.
Golfers love to get new gear and accessories, which is why we created this list of the best golf gifts for golfers under $50. From hats and gloves to putters and balls, we've got you covered no matter what your budget or occasion may be. Whether it's a birthday gift for dad or an anniversary present idea for mom, every golfer will find something they like on our 50+ Best Gifts For Golfers Under $50 list.